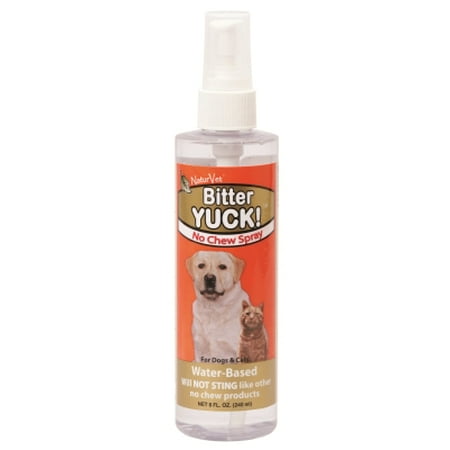 Read more on Life Gold for cat cancer dealing with cat's illness and immune support! The natural bacon flavor added is super-yummy and helps at dealing weakness and vomiting troubles in cats. Keep updating for more details on this!
"Is BM Tone Up Gold for Cat diarrhea safe? What in case of negative, allergic responses? Does it works with blood thinners? Read on the customer testimonials and precautionary measures here."
Yuck! No Chew spray is a bitter solution that discourages the pets like cats, dogs, and horses from chewing on to the surfaces and things. They chew on these things just for the fun of it. By spraying this Yuck! No Chew spray on to those popular things will have the pets stay away from them. Those popular chewy items favored by the pets are the likes of furniture, wounds, hot spots, leg wraps, drapes, tails, manes etc. This non-sticky spray can be sprayed on to any surface, without fearing about any damage.
What is Yuck! No Chew spray?
Yuck! No Chew spray is non-staining and can be applied on any washable surface. It is water based and cannot do any damage to the furniture or drapes for that matter. The non-alcoholic spray is also good for the pets as it will not have a stinging taste in their mouth. It can also be applied directly on open wounds or cuts if needed.
Yuck! No Chew spray is made with bitter principles, rosemary, and sodium bicarbonate and purified water. The bitter principle leaves a bitter taste that the pets will deter. When applied over all the chewy items and surfaces they will no longer bite on them any longer. But there is a catch, in rare cases the pets actually like this taste and in that case this product cannot serve it is made for.
Why do pets chew on things?
There are many reasons why the pets chew things. Boredom is one of them and so is teething and exploration. But the prominent reason is anxiety of any kind and this is their way of expressing it. Chewing is their natural behavior but disturbing when they are domesticated. Providing them things that they can chew is one way of handling this bad habit. When that does not work, owners look for other methods. Trust me, Yuck! No Chew spray really works.
Yuck! No Chew Spray Directions to use
Clean the intended surface and spray evenly. Repeat the spray at regular intervals until the pets show deterrent to the surfaces it is applied to. Please note that this Yuck! No Chew spray is meant to be sprayed on to the objects and not directly on to the pets. The idea is to make them detest those surfaces. It can also be sprayed over topical medication so that the pet will not lick on it. this is one product that comes handy at any time.
Yuck! No Chew Spray Warning
Yuck! No Chew spray is non-staining but caution is always welcome. Spray a little on to the fabric and let it dry for a while. See if there is any stain formed and if not continue with the task and use it generously. The solution is washable and is safe for any surface.
The ingredients used are natural. There can be variations in each batch of the product, so look for any allergic reactions after the first few uses. Also make sure that the pet really hate the taste of the solution before leaving him/her alone. Otherwise you may have to face the reverse effect.
Summary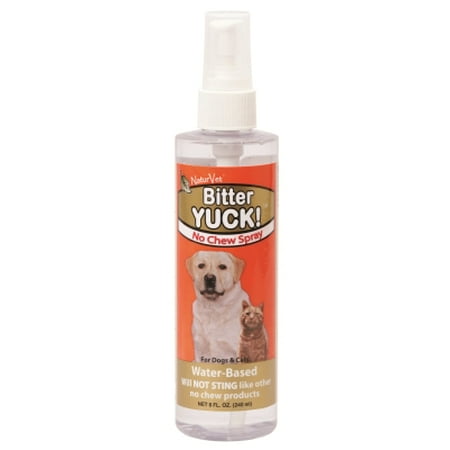 Author Rating
Brand Name
Product Name
Price
Product Availability
Originally posted 2015-05-06 08:26:47.