This characteristic of the pancreatic function is known as the exocrine pancreas. Generally, the produced Digestive enzymes remain inactive until they are secreted into the small intestine. In the intestine, they become active and aid in the food digestion. However, the Pancreas is inflamed when the digestive enzymes that are generally inactive become active and the enzymes cause damage to the pancreas. This causes an increased inflammation in the pancreas. To help your pet relieve this inflammation in pancreas and aid in the digestion, some related medication should be provided. VetApprovedRx provides pet medications online. It has a number of products to help Pancreatitis problems in cats. One of these products is PancrePlus Tabs, read on to know about the details of this product.
PancrePlus Tabs is a pancreatic enzyme concentrate of porcine origin that is fortified with vitamins A, D3 and E. It is used as a digestive aid in replacement therapy where digestion of protein, fats, and carbohydrate is inadequate due to exocrine pancreatic insufficiency. This product is used for both dogs and cats. It comes in two types of packaging 100 Count Bottle and 500 Count Bottle.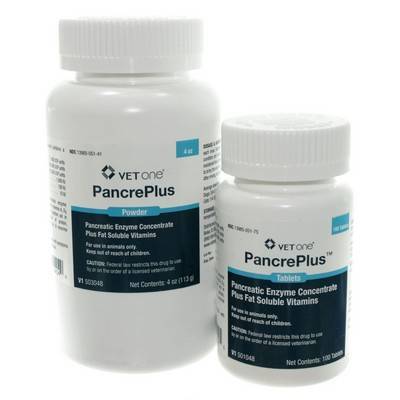 PancreaPlus Tablets
Pancreas is a part of the endocrine system, in addition to this, it also produces insulin and glucagon hormones plus the needed digestive enzymes for proper digestion of food.
PancrePlus Tabs (Ingredients) Content
The ingredients details of PancrePlus Tabs are as under. Each tablet contains a minimum amount of following:
| | |
| --- | --- |
| Lipase | 9,000 USP units |
| Protease | 57,000 USP units |
| Amylase | 64,000 USP units |
Each tablet of PancrePlus Tabs is also fortified with:
Vitamin A
Vitamin D3
Vitamin E
PancrePlus Tabs Dosage and Administration
The undermentioned Dosage and Administration for PancrePlus Tabs must be followed as instructed:
Each Dose should be administered before each meal.
The dosage is decided on the basis of the severity of the condition and cat's body weight.
The average dose per meal to be offered is:
For Dogs: 2 – 3 tablets
For Cats: ½ – 1 tablet
Precautions: This product must be discontinued using instantly in animals with symptoms of sensitivity or allergy.
PancrePlus Tabs Cautions
The following cautions must be noted for using PancrePlus Tabs:
This drug is restricted by federal law to use by or on the order of a licensed veterinarian.
It is meant to be used in animals only.
Keep it away from the reach of children and pets
PancrePlus Tabs Storage
Store PancrePlus Tabs bottle in a firmly sealed container and keep it in a dry place under a controlled room temperature.
Kindly note that to buy this product you are required to give a veterinarian prescription. At the time of checkout, you will be asked for your veterinarian contact details such as Fax number or email address. Upon receiving the details, prescription verification will be sent to your veterinarian for confirmation which he or she will authorize by signing and return to the company, thereafter only your order will get shipped.
To instantly buy this product and help relieve your cat from pain, click on the link below: http://www.vetapprovedrx.com/shop.asp?category_id=&item_id=1539&item_name=PancrePlus%20Tabs#.VRqirvyUeSo , select the size of the bottle and then click add to cart tab.