If your four legged companions are in trouble, as a pet owner to help them with this problem is your duty. To provide a relief to them, the very first important thing to know is what causes rashes in your cats. Until and unless you rule out this with or without a help of a veterinarian, you will not be able to cure it completely for them.
When cat is suffering from rashes or allergies, their immune system as a whole will be sensitive to the substances. Eventually it can also reach a stage that will be difficult for the cat to withstand.
Derma-ionx is a homeopathic liquid formula that will help in treating rashes in your cat. This is a product of Vetionx that is certified and verified by higher authorities.
Causes Of Skin Rashes In Cats
Causes of skin rashes in cats can be one or multiple and can be different from one to other cat. The most common cause of rashes in cats is due to environments or allergic reactions. Allergens can be present in the environment which cannot be accepted by the body of the cats. The immune system and the skin will respond to it vigorously giving way to rashes in the cats. The allergic reactions can also occur from the cat's food that you provide them. This can be mostly from the processed food items.
Common Allergic Substances
The most common substances that can cause allergic reactions are
Certain food products
Trees, grass, weed, mold, pollens
Fleas
Perfumes
Prescription drugs
Perfumes
Cleaning products
Cigarette smokes
Fabrics
Rubber materials
Plastic materials.
How Will I Know My Pet Is Suffering From Skin Rash?
Rashes like in humans will have similar symptoms. But unlike in humans, cats may not be able to convey their difficulty and discomfort that they are facing. The most common symptoms that occur due to allergies or rashes are excessive scratching, chewing at their skin, rubbing. Rashes also signify the presence of mites or fleas or ticks.
Home Remedies To Fix Rashes
Prevention is always better than cure. The best treatment would be to start a flea control program for your cats. Always prefer a dust free, unscented litter. Allergies can also occur from chemical scented litters.
Cleanliness: Cleanliness will help in solving half the problems. Washing your cat alone and keeping it clean will not help in solving out rashes. Its surroundings and the area that it deals with the most should also be kept clean, wash all the bedding area well. The most common place for allergens to reside is their space. Hence it is important to wash the beddings of your lovely pets once in a week at least. You can also get the help of the steam cleaner to remove the allergens and the dust mites. Remove their feces off from the floors as soon as possible. And wash the area with a disinfectant. This will also add on the promotion of your health as well.
Usage of a flea collar: get a flea collar and place it along with the cat in the right way. This will help to kill the fleas and prevent the manifestations that they create on the pet. You can also use a spray to kill the eggs and larvae of the flea. Make sure that the insecticidal is not harmful for the cat's health.
Elizabethan collar: get an Elizabethan collar if your cat is suffering from the rash. This rash will cause them to scratch and worsen in more severe condition. Although there will be several attempts of removal of the collar, it will help in rubbing of the rashes to go away.
Air purifier: when the allergens are inhaled, this can cause the cat to sneeze and to have skin rashes. Usage of an air purifier will help in elimination of the allergens.
Cleaning of the cat's coat: A mild shampoo will help in getting this aim accomplished easily. You can also use a damp cloth to make it clean and free from the rashes and from flies.
Diet: if your pet is already under rashes problems. The diet preferred is to have a hydrolyzed protein diet. Home cooked diet would be always better.
Medications: if all the above home remedies are not at all working in your pets, it is important to meet a veterinarian as soon as possible. They will prescribe certain medications or medicated shampoos for your pets. Make sure that you use the products and the medications regularly without missing a dose.
Summary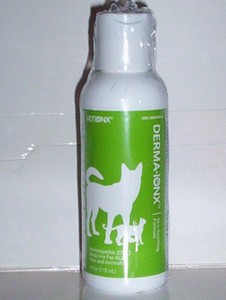 Author Rating
Brand Name
Product Name
Price
Product Availability
Originally posted 2015-03-21 07:42:58.